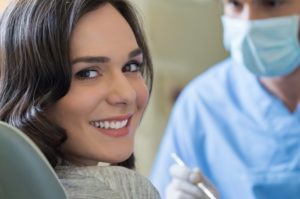 What do you look for in a new dental practice to call home? What qualities are most important to you and your family? Well, at Fulshear Dental, we know that we are serving our friends and neighbors, so we are committed to delivering outstanding, personalized dental care with service that leaves a bright, happy smile on your face. In this post, get to know Dr. Aekta Fifadara and our practice. We are certain that you'll like what you see!
Wide Range of Dental Expertise and Services
With over a decade of dental experience under her belt, Dr. Fifadara has had exposure and clinical practice with nearly every facet of dentistry. After graduating from dental school and completing a one-year general dentistry residency, she earned a certificate in Advanced Dental Implant Research & Education, enabling her to perform oral surgery with expertise. She is also certified in Invisalign and Lumineers, providing advanced cosmetic dental services to her patients. Whatever your dental need, we can meet it at Fulshear Dental.
Dental Care with Heart
Any dentist can help you with your teeth, but few can practice dentistry with the level of kindness and compassion that Dr. Fifadara does. Some dental practitioners make you feel guilty if you experience decay or damage. Not at Fulshear Dental! Dr. Fifadara spends the time to help you understand your situation, what your treatment options are, and how you can prevent future oral problems. We treat our patients without judgement and make the entire dental experience as enjoyable and relaxing as possible.
Putting Patients First
Everything about Fulshear Dental focuses on meeting the needs of each patient. For example, we understand that fitting dental appointments into your busy schedule is difficult. That's why we are open until 7 p.m. on Wednesdays and Thursdays and on Saturdays. Also, unlike other practices that push unnecessary procedures, we believe in conservative treatment and recommend dental services only after we've discussed your needs with you in depth.
Active in the Fulshear Community
The team at Fulshear Dental doesn't just work in Fulshear—we live here too! Since she came to the area for the first time, Dr. Fifadara has loved the tight-knit feeling that this community has. As a result, she and our team at Fulshear Dental want to become an integral part of the charm found here by participating in community events like the Bonterra Health Festival and Scarecrow Fest. We also sponsor local kids' sports teams and spend time at local schools to educate students about the importance of oral health. We love our community and aren't afraid to show it in all we do!
So, whether you haven't visited the dentist in a while and need a checkup or you're in need of emergency dental services or you're looking for a new dental office for your family, we invite you to contact us at Fulshear Dental today! We look forward to getting to know you and helping you achieve a healthy, radiant smile now and for many years to come.
About the Author
Coming from a family of dental professionals, Dr. Aekta Fifadara has dentistry in her blood. She graduated from Tufts University of Dental Medicine in Boston in 2009 and did her residency at Queens Hospital in Jamaica, New York. Outside of her work at Fulshear Dental, she loves to spend quality time with her husband and two children as well as travel, dance, and participate in photography. To schedule an appointment with her, call (281) 346-8371 or click here.